Sale!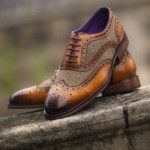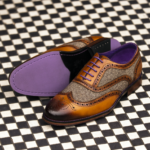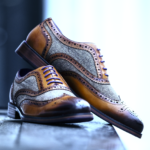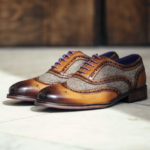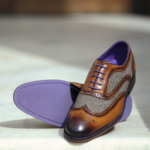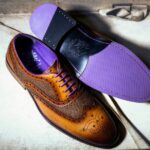 The Wellesley Tweed Tan Brogue
The Wellesley Tweed Tan Brogue
Burnished Tan Leather and Tweed Brogue. An instantly comfortable shoe with striking elegance.
Full Description
Description
The uppers on The Wellesley hand made brogue combine fine burnished leather with sections of quality tweed fabric. Inners are lined in soft purple calfskin for added comfort. The stitched sole has a layer of coloured grip and a rubberized heel, both stylish and practical!
This shoe is a popular choice for weddings but can work equally well as smart casual. The contrasting textures bring an interesting and modern look to this classic design. The first shoe we designed and worn all over the world.
We are finding this particular brogue is sizing just a little narrower than standard. We recommend going up a size if you are broader/longer than a standard 'F' fit.
Designed for those who like to be a little different, this pair of shoes features a lovely combination of fine leather and quality tweed.
Delivery & Returns
1.1 Goods will normally be dispatched within 1 working day and any estimated dispatch date is an estimate, which can change without notice.
1.2 We will normally deliver goods within 2-3 working days of dispatch.
1.3 We can deliver our products anywhere in mainland Great Britain and Northern Ireland and a range of countries worldwide.
1.4 We will deliver the goods to the premises you specify on your order. You must be at home to accept delivery of your order, which is normally between 9:00am and 6:00pm Monday-Friday.