When we think about Summer clothes, we very rarely think about tailored suits and classy ensembles. It is certainly hard to look sophisticated on warmer days, as most of us decide to put comfort before anything else.
But what happens if a gentleman is required to attend a more formal event on a sunny Summer day? That's when a smart-casual outfit can come to the rescue!
At Eves & Gray, we are committed to creating designs that are subtly extrovert and distinctive and this shows in our variety of men's leather shoes and accessories, perfect for any outfit or occasion. So, let's take a look at our guide to Smart Shoes and Casual Clothes below.
A simple rule to create a smart-casual look perfect for the Summer
Getting a smart-casual outfit right can take some practice is a contradiction in itself so it is understandable if many gentlemen find it difficult to get it right the first time. Our aim with this brief guide on smart-casual outfits for the Summer is to show you that you can use smart shoes to give your casual outfit a more sophisticated feel just by using a very simple rule.
The one-two-three rule is, in fact, the best way to put together the perfect smart-casual outfit for the Summer. Choose the casual outfit you feel most comfortable in and swap one, two or three items for smart ones.
For example, let's take a simple outfit – a pair of plain chino trousers and a white T-shirt. If worn with a pair of white trainers, this is the perfect outfit for a casual day out; however, if you swap the shoes for a pair of elegant Lincoln Tan Burnished Brogues, you will turn your look into a perfect smart-casual alternative!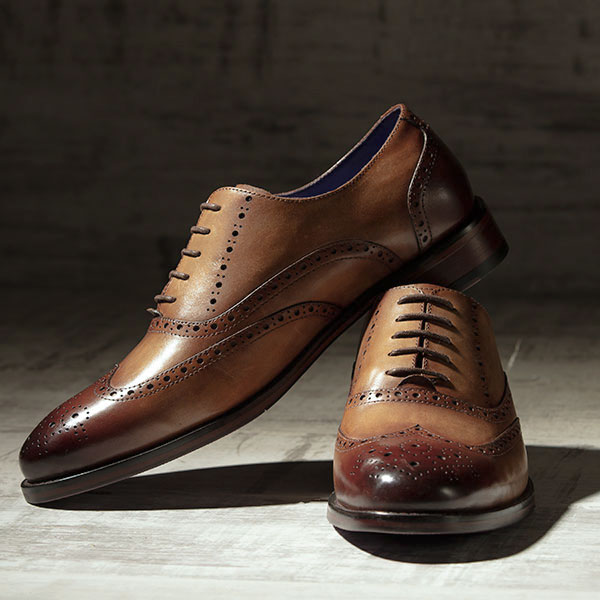 The same rule applies to any Summer outfit you can think of. Are you wearing a casual white fitted shirt with a pair of long jeans? Then a smart pair of Atlas Suede Leather Chelsea Boots can take you from the beach to the bar with no effort! Just remember that, when it comes to casual trousers, darker hues are usually the smartest ones.
So, next time you buy a pair of jeans keep that in mind and opt for a dark grey or black, just in case you need to put together a smart-casual look last minute!
Summer is the season for casual-wear and it would be difficult for anyone to get through two months of warm weather without wearing a pair of shorts. If your concern is that short trousers are not elegant enough, then don't forget to use the one-two-three rule!
You can be elegant while wearing shorts; all you need is a perfectly pressed shirt, a pair of classy shoes like the Bancroft Leather Slip Ons and a good accessory to make you stand out, like our MK.VI Limited Edition Watch below. Et voilà, you're Summer ready!