When we think about practicality and comfort, it is almost impossible not to mention boots. Perfect for a casual day out or a more professional look, they come in all shapes and styles and are great to keep your feet comfortable while looking your best! This valuable wardrobe addition is loved by everyone; they come in handy to both ladies and gentlemen, making their life easier when deciding what to wear.
At Eves & Gray, we offer a great variety of boots – from the most formal ones to the most casual – so, to help you find the perfect ensemble for any occasion, we have put together a practical mini-guide to wearing boots.
Casual times with the Maxamillion
These staple boots are finely handmade using a mixture of fine leather and suede. Inspired by WW2 flying boots, they are faux fur lined, making them ideal for Winter wear. Lace-up boots are perfect for a casual look, however, thanks to the quality of the materials used and the sleek design, the Maxamillion can be a versatile addition to any gentleman's wardrobe.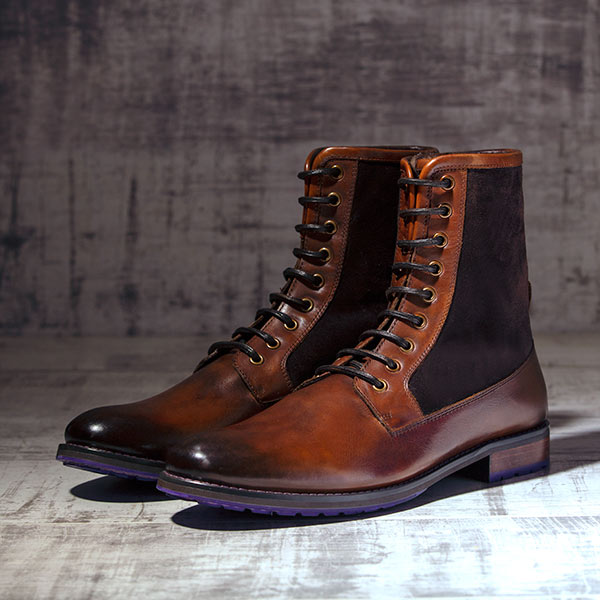 Comfort and Class thanks to the Bison
If comfort is what you're looking for, then you won't be able to find anything better than the Bison dark tan leather boots. The lace-up design makes it easier to slip them on, but don't forget to use a shoe horn if you want to avoid damaging the leather and its shape. The padded ankles offer great support and the insoles will guarantee breathability while keeping your feet snug and comfortable!
Stand out with the unique Lerwick
Wearing boots is very often a practical choice – they are undeniably amongst the most comfortable shoes out there. However, you may also opt for a pair of boots that will make your ensemble stand out! The Lerwick boots feature matching tweed panels that resemble the design of a classic pair of Oxford shoes and, thanks to the mixture of shades used, they are the perfect boots for an Autumn/Winter wardrobe.
A jump in the past with the Tomcat
The unique monk-strap design of these boots makes them a great variation of an otherwise very classic pair of shoes. These boots were made to stand out, from the choice of materials – they are handmade from a burnished dark tan leather with a soft purple calfskin lining – to the choice of design. The Tomcat boots will take you for a jump in the past, so embrace the style and wear them with your favourite pair of black jeans or tailored trousers – they're versatile like that!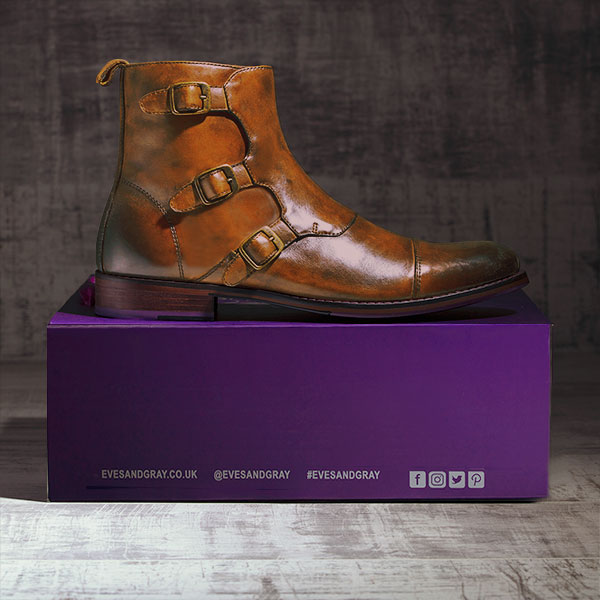 One last modern look with the Berkeley
Lastly, but not for importance, we have decided to show you something a bit different. The Berkeley boots are the modern alternative to the classic leather lace-up boots. While the main details are made from burnished tan Italian leather, the real star of the design is the grey fabric used for panelling.
Thanks to the contrasting materials, at Eves &Gray we have revisited an old boot with a new approach to create the Berkeley. The padded soles allow the boots to breathe while making sure your feet stay snug and warm – what more could one ask for?